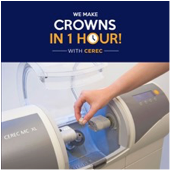 It is with great excitement here at Optimal Dental that we begin to incorporate our newest technology. In October we acquired a new CEREC. Many of you may be asking, "What is that?" CEREC (CEramic REConstruction), or cad-cam, helps revolutionize the way we do crowns allowing us to fabricate them for most teeth in one visit.
If we wanted to make a crown before, we would have to take a mold of your teeth, using impression material. We would then send this to a dental lab for them to fabricate your crown. For the two to three weeks while your crown was being fabricated you have to wear a temporary crown, which can often come unglued. You would then have to return for a second appointment for the new crown to be placed.
With CEREC that system has now changed. Instead of an impression we are able to take a digital scan of your tooth, and use it to design your crown digitally. There is no longer a need for the runny impression material that can often cause gagging. We are then able to design your crown right here in the office. We are able to mill your crown on a special machine out of a block of porcelain or zirconia. After the crown is milled it is stained, glazed, and sintered in an oven. Finally, we are able to do a final polish to make the crown sparkle.
This is a wonderful system that we hope our patients truly love. The process is more comfortable, convenient, and allows us to control every step of the process. There is no longer a need for a second appointment or a temporary crown. While the crown is being fabricated there is a about a 30 to 40 minute break. You are able to watch TV, bring a book to read, or can simply use your smart phones while you wait. After we are finished you get to leave ready to eat and drink anything you would like.
We are so excited to incorporate this technology into the office, as we know it allows us to help deliver the very best level of care to each and every one of you.
Dr. Steve Wirth
Optimal Dental
Check out this short video to see how easy it is!
www.onlyonevisit.com/optimaldental
Thank you for visiting! We look forward to seeing you.