We are a full service Dental practice based on honesty, integrity, and high moral values. We are dedicated first and foremost to you the patient, your overall health, oral health, and appearance. We understand that many people have a fear of Dentistry and your comfort is our chief concern. We are highly skilled Dental professionals with over 187 years combined experience of practicing Dentistry. We have 110 years of combined experience working together as a team. What this means for you is a team of Professionals who have experienced a lot of Dentistry, know the people we are fortunate to take care of, and a team that understands how to work together and make your experience a great one from beginning to end. We work hard every day to abide by and achieve our mission statement for ourselves and most importantly you.
Our full service practice includes:
General Dentistry
Orthodontics
Implant/Surgical Care
TMJ Treatment
Hygiene/Periodontal Care
Root Canal Therapy
Cosmetic Dentistry
We've worked countless hours through Continuing Education to offer these services at a high level. Our practice continually pushes forward to offer the best we can find in materials, products, and technology.
Our high-tech office includes:
Air Abrasion
Digital X-Rays
Diagnodent
Intra Oral Cameras (to document and help you see your condition)
Joint Vibration Analysis
CAESY Presentation System (to help explain all procedures in an easy, understandable manner)
CEREC
www.onlyonevisit.com/optimaldental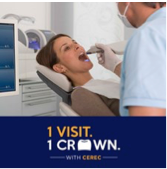 We're proud to always deliver you an honest opinion on your condition. It is our goal to always provide you recommendations on what is best for you, but also give alternatives or choices in treatment. Whatever your situation may be you can count on us and depend on an honest evaluation from people who truly care about you. You can expect to leave our office fully informed to make the best decision for yourself and feeling great.